Jeger Beton
Decorative effect for walls imitating raw concrete with pits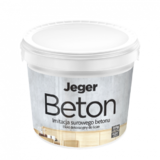 Choose color

Bianco

Como

Verona

Napoli

Genova

Roma
Product description
Jeger Beton decorative effect is a unique solution that will lend your walls an exceptionally industrial character. Architectural concrete with a matte finish is recommended for use on interior walls, on virtually any type of substrates such as plasterwork, drywall or concrete. Decorative concrete on the wall will contain characteristic pits and cavities, which will resemble actual concrete. The concrete imitation is possible in as many as six shades. Such a decorative surface texture, decorative concrete, will be perfect for any modern interior, it is also a great complement to wood, ceramics, metal or glass.
Instructional video
Take a look at the instructional video to help you choose the right application technique.
How to do that? It's just 3 steps
You only need two tools.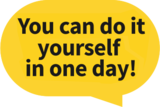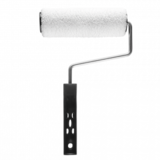 Paint roller
+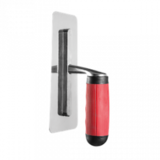 Plastering trowel
1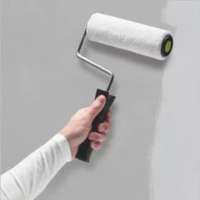 Spread primer
On a clean, dry, dust-free and degreased wall, apply Jeger Primer Beton with a paint roller. Wait for 4 hours.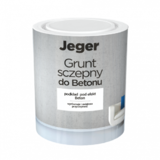 ---
2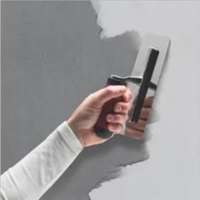 Apply decoretive effect
Mix Jeger Beton thoroughly. Do not dilute, the product is ready to use. Do not mix with other products. Apply a thin layer to the grain thickness with a Venetian trowel. Then gently smooth it. If you want to make pitting, apply and detach the trowel from the freshly applied compound. Gently smooth the entire surface during the pre-drying stage. If you want to change the effect, after about 4 hours you can apply another layer and repeat the whole process. Leave to dry for approx. 12 hours.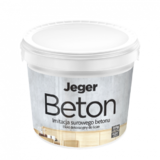 ---
3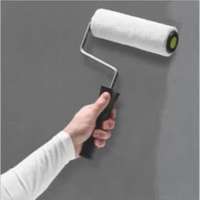 Protect surface
Apply the Jeger Protector Beton on a dry surface with a new, unused roller. The varnish may slightly change the shade of the surface.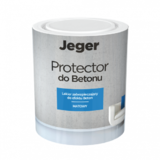 Tips
If you want to create a concrete slab effect, apply Tape for imitating concrete slabs 6mm×50m to the dried first layer of concrete in the areas separating the slabs from each other. Then apply a second layer of concrete and after approx. 30 minutes remove the tape, obtaining the pattern of the slabs. Gently smooth the entire surface.
Remember: If you need to use more than one pack of the product, mix the contents of all the packs together before applying. Check the effect on a small area before applying the varnish to the whole surface. The product is intended for interiors.
Download the application manual