Jeger Metal for furniture
Metallic effect paint for furniture and wood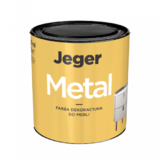 Choose color

Silver

Gold

Copper

Old Gold
Product description
Jeger Metal for furniture is a paint that creates a durable, metallic finish on furniture surfaces. In this way, it perfectly imitates metal panels or the so-called scratched sheet metal. This metallic effect for furniture is a great solution for those who want to give their interiors an industrial, modern feel. The outstanding effect of Jeger Metal for furniture paint is perfect for both residential and commercial spaces, such as offices. It is worth noting that this product can be used not only on wood. The paint can be used to refinish furniture and decorative items made of metal, ceramic, glass and even plastic. Thanks to its wide range of applications and the availability of 4 colors, the paint is the ideal choice wherever uniqueness and style count.
Drying time is about 4 hours. Be sure to read the instructions before using the paint.
Instructional video
Take a look at the instructional video to help you choose the right application technique.
How to do that? It's just 1 step
You only need one tool.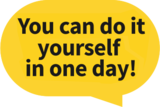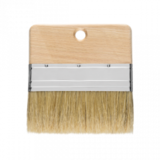 Brush
1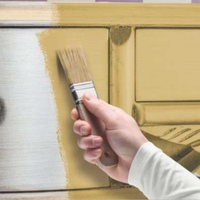 Apply paint
Apply a layer of Jeger Metal for furniture paint with a paintbrush on a lightly sanded and treated surface (in the case of wood, in the direction of the grain). Mix the paint thoroughly before painting. Add a little water if necessary, do not mix with other products. Try to apply the paint evenly, avoiding any thickening or streaking. Leave to dry for approx. 4 hours. Apply a second layer if necessary. When painting intense colors, apply Jeger Deco Primer for furniture before applying the paint.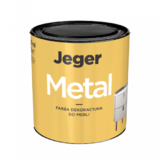 Tips
If it is necessary to use more than one package of the product, mix the contents of the packages before applying. This will create a uniform shade. Test the effect on a small area before applying it to the whole surface. The product is intended for interiors.
Download the application manual