Jeger Renovation Paint
Ultra-resistant paint for the renovation of all surfaces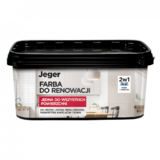 Choose color

White

Vanilla

Broken Gray

Moonstone

Soft Platinum

Warm Gray

Magic Navy-blue

Neutral Ash

Discreet Silver

Dark Steel

Strong Graphite

Deep Black
Product description
Jeger Renovation Paint is a highly durable, decorative and protective paint for all kinds of surfaces, such as floors, furniture, doors, mouldings, window sills, stairs, panelling, etc. The paint is waterproof and extremely resistant to abrasion.
The special "2in1" formula eliminates the need for primers. It can be applied to most surfaces: laminate, panels, metal, tiles, ceramics, raw wood, as well as previous paint.
Instructional video
Take a look at the instructional video to help you choose the right application technique.