Jeger Beton Black
Decorative effect for walls imitating black concrete with pits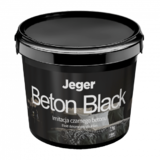 Choose color

Black
Product description
Jeger Beton Black decorative effect is a unique solution that will give your walls a uniquely industrial character. Architectural concrete with a matte finish is recommended for use on interior walls, on virtually any type of substrate such as plaster, gypsum boards or concrete. Decorative concrete on the wall will contain characteristic pits and cavities, which will deceptively resemble real concrete. Such a decorative surface texture, decorative concrete, will be perfect for any modern interior, it is also a great complement to wood, ceramic, metal or glass.
Instructional video
Take a look at the instructional video to help you choose the right application technique.
How to do that? It's just 3 steps
You only need two tools.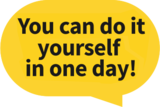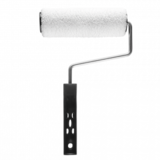 Paint roller
+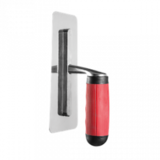 Plastering trowel
1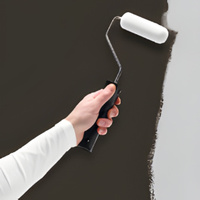 Spread primer
Apply Jeger Primer Beton Black to a clean, dry, dust-free and degreased wall and let it dry for about 4 hours.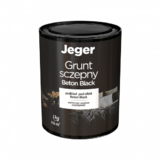 ---
2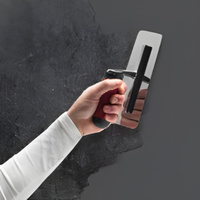 Apply decoretive effect
Jeger Beton Black mix thoroughly before use. Do not dilute with water. Do not mix with other products. Apply with a Venetian trowel to the thickness of the grain and smooth. If you want to change the effect, after about 4 hours you can apply another coat and repeat the process. Apply at +8°C to +25°C at a relative humidity of max. 82%, avoid drafts. Allow to dry for about 12 hours. After painting, wash the tools with warm water.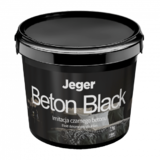 ---
3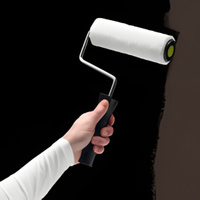 Protect surface
To protect the coating and enhance the blackness on the dried surface, apply Jeger Protector Beton Black with a roller according to the instructions on the label. The varnish changes the color of the surface and allows for a deeper black with a matte finish.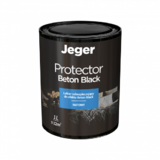 Tips
If it is necessary to use more than one package of the product, mix the contents of all packages in a larger container before application. Test the effect on a small area before application and varnishing. The product is intended for indoor use.
Download the application manual