Jeger Renovation Paint Hydro-Protect
Waterproof paint for surfaces exposed to direct contact with water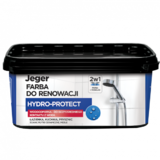 Choose color

White

Cream

Beige

Warm Gray

Platinum

Steel

Graphite

Black
Product description
Jeger Renovation Paint Hydro-Protect is a waterproof paint that can be used for surfaces exposed to direct contact with water (e.g. bathroom, shower, kitchen). The paint has very good durability and mechanical properties.
Substrate preparation
The substrate should be dry, clean and durable. Remove damaged (e.g., peeling and cracked) coating of previous paints, glue and lime paints and roughen the surface, for example, with fine sandpaper. Fill the defects with a suitable filler and sand down. Clean previously painted surfaces of impurities that limit paint adhesion, such as dust, rust, fungi and mold. Thoroughly degrease the surface before painting.
Application
Mix the paint thoroughly before use. Do not dilute with water. Do not mix with other paints. Apply with a brush or roller at +8°C to +25°C, at a maximum relative humidity of 82%, avoid drafts. If necessary, apply another coat after about 2 hours. When using packages from different production batches, mix them in a larger package to prevent color shade difference. The coating is ready for use after 24 hours, and obtains its full strength properties after 14 days from the completion of painting work performed according to the manufacturer's instructions. Wash the painting tools with water after finishing painting.