Jeger Perle for furniture
Pearl effect paint for furniture and wood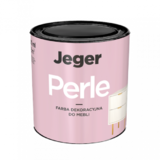 Choose color

Turmaline

Selenite

Pearl

Diamond

Platinum

Onyx

Agate

Quartz
Product description
Jeger Perle for furniture is a unique paint characterised by high gloss and a distinctive pearl finish. It effectively helps to give painted objects a soft, really beautiful shine and makes them look classy. It is ideal for restoring furniture. Likewise, it can be used to renew previously ordinary and inconspicuous decorative elements of any interior, as well as everyday objects. Each of the eight available shades is also perfect for painting wood panelling. Jeger Perle for furniture is a washable, easy-to-use paint for use on various surfaces. It can easily be used on existing coats, there is no need to remove previous paints. The paint also requires no additional priming before application.
The drying time should not exceed 2 hours. Please read the instructions before use.
Instructional video
Take a look at the instructional video to help you choose the right application technique.
How to do that? It's just 1 step
You only need one tool.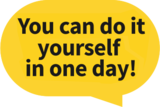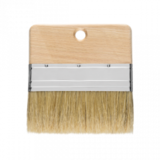 Brush
1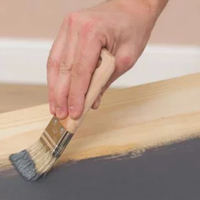 Apply paint
Apply a layer of Jeger Perle for furniture paint with a paintbrush on a lightly sanded and treated surface (paint in the direction of the woodgrain). Mix the paint thoroughly before painting. Add a little water if necessary, do not mix with other products. If necessary, you can apply a second layer about 2 hours after applying the product. When painting intense colors, apply Jeger Deco Primer for furniture before applying the paint.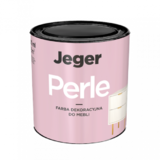 Tips
If it is necessary to use more than one package of the product, mix the contents of the packages before applying. This will create a uniform shade. Test the effect on a small area before applying it to the whole surface. The product is intended for interiors.
Download the application manual