Jeger Chalk Paint
Matt chalk paint for furniture and wood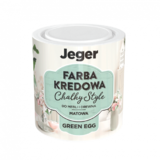 Choose color

Stone

Green Egg

Geranium

Marine

Oriental

Vanilla

Lily

Chalk

Jasmin

Hydrangea

Bergamot

Dark-gray

Gustavian Blue

Gray

Muscade

Prussian Blue
Product description
Jeger Chalk Paint has a matt finish and is perfect for transforming an interior. With its help you can quickly paint furniture, decorative elements and everyday objects, achieving excellent decorative effects. The product is easy to use and can be applied without priming and the need to remove previous paints, thus saving time.
Using this paint, you can achieve both solid color and a distressed or aged effect. The product is water-based and as such does not release unpleasant odours. The rich color range includes as many as 16 colors. Dedicated varnishes are also available for this paint: 500 ml (with matt and satin finish) and in spray form with 350 ml (with matt and glossy finish). We also recommend colorless or brightening waxes in 250 ml capacity.
Instructional video
Take a look at the instructional video to help you choose the right application technique.
How to do that? It's just 2 steps
You only need one tool.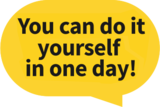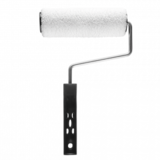 Paint roller
1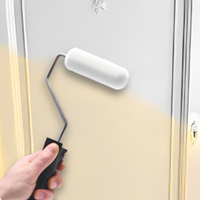 Apply paint
Lightly sand and clean the decorated surface. The paint can be applied directly to raw, painted or varnished wood. Note: for tannin or softwoods, apply Jeger Deco Primer for furniture first. Apply in the direction of the woodgrain with a paintbrush or small roller, avoiding any thickening or streaking.
Aged/distressed effect: When the paint has dried (approx. 4 h), sand the surface lightly and unevenly with fine sandpaper, exposing the wood in places.
Solid color effect: After applying the first coat of paint, wait for about 4 hours. For roller application, sand the surface with 180-grit sandpaper, then apply a second layer of paint evenly and let dry.
Two-color effect: After applying the first layer of paint in the first color, let it dry for ±4 h and then apply the second color. After ±15 min, unevenly wipe the surface with a damp sponge, revealing the first color in spots.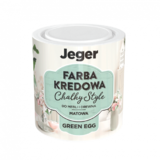 ---
2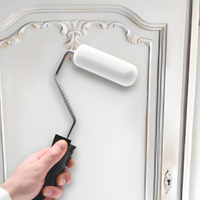 Protect surface
For extra protection or to change the finish, once the decorated surface has dried, you can apply one of Jeger's varnishes or waxes for Jeger Chalk Paint.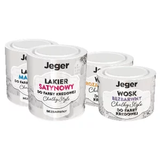 Tips
If it is necessary to use more than one package of the product, mix the contents of the packages before applying. This will create a uniform shade. Test the effect on a small area before applying it to the whole surface. The product is intended for interiors.
Download the application manual