Jeger Oxyd Patine
Ready-to-use decorative compound that allows to obtain an effect imitating green patina of copper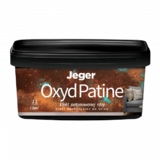 Choose color

Oxyd Patine
Product description
Jeger Oxyd Patine is a new decorative effect from the Jeger Oxyd product family – it gives walls an original appearance, reminiscent of the green patina of copper. The patina rust effect is extremely realistic and the surface is easy to create patina patterns and irregular, light green patina coats. This decorative effect will find its way into modern interiors with a loft and raw atmosphere.
For best results we recommend using all products in the Jeger Oxyd line.
Instructional video
Take a look at the instructional video to help you choose the right application technique.
How to do that? It's just 4 steps
You only need two tools.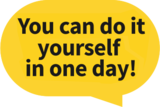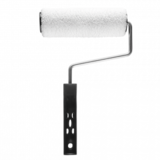 Paint roller
+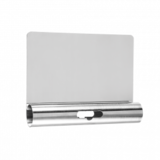 Plastering trowel
1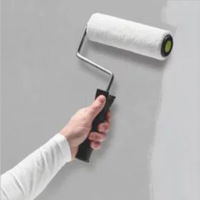 Spread primer
Apply Jeger Oxyd Primer with a roller (according to the instructions on the packaging) to a clean, dry, dust-free and degreased wall. Allow to dry for approx. 4 hours.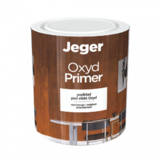 ---
2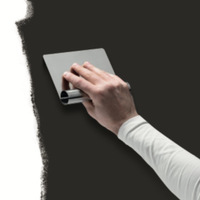 Apply Jeger Oxyd Patine
Jeger Oxyd Patine mix thoroughly. Do not dilute. The product is ready to use. Do not mix with other products. Using a trowel, apply a thin layer of the decorative compound to the wall and let it dry for about 2-4 hours.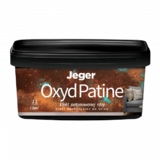 ---
3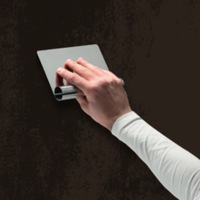 Apply Jeger Oxyd in places
Then apply Jeger Oxyd in places with a trowel – these areas will eventually stain a rust color. If not covered with Oxyd, a layer of Jeger Oxyd Patine penetrating from underneath will eventually color in "green". Let dry for approx. 8 hours. Apply at +8°C to +25°C, max. 82% relative humidity, avoid drafts. After drying, spray the surface Jeger Oxyd Activator. The rust effect will appear between 2-8 hours. You can repeat the rust formation process until you achieve the desired effect.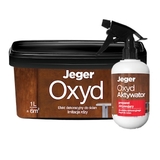 ---
4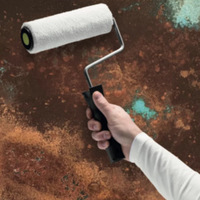 Protect surface
After a minimum of 24 hours, apply Jeger Oxyd Protector. Application of the product is necessary to obtain the correct effect. After painting, wash your painting tools with warm water.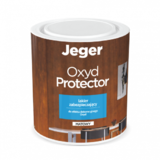 Tips
If you need to use more than one pack of product, mix the contents of all packs together before applying. This will ensure a uniform shade. Test the effect on a small area before application. The product is intended for interior use.