Jeger Renovation Paint Outdoors
Weatherproof paint for restoration of fences, gazebos, windows, doors and garden furniture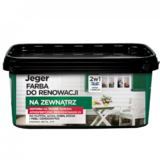 Choose color

White

Beige

Dark Beige

Subtle Gray

Ash

Dark Steel

Anthracite

Black
Product description
Jeger Renovation Paint Outdoors is a product designed for the renovation of fences, gazebos, windows, doors and garden furniture. It creates a flexible and durable coating. The product is easy to apply and resistant to harsh weather conditions. Provides protection of the coating against fungal and mold growth. For use on wood, metal and PVC.
Substrate preparation
The substrate should be dry, clean and durable. Remove damaged (e.g. peeling and cracked) coating of previous paints. Fill surface defects. Clean previously painted surfaces from contaminants that limit product adhesion (e.g. greasy stains and rust). If fungi and mold are present, remove them using a suitable preparation.
Application
Mix the product thoroughly before use. Do not dilute with water. Do not mix with other paints. Apply with a brush or roller. Spray application possible (if necessary, paint can be diluted by adding max. 2% water). Apply at a temperature of +8°C to +25°C, at a relative humidity of max. 82%. Apply the next coat after a minimum of 2 hours. When using packages from different production batches, mix them in a larger package to prevent differences in color shade. Wash your painting tools with warm water after painting.