Jeger Mineral
Decorative effect giving surface the appearance of natural, smooth stone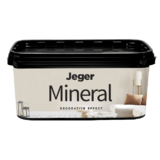 Choose color

Pebble

Parette

Peppe
Roccia

Taupe

Gello
Product description
Jeger Mineral is a decorative effect that gives walls the appearance of natural, smooth stone with a matte finish. The paint's texture can be further enriched with natural mica flakes, which are visible on the painted surface in the form of tiny, illuminating dots with a silver sheen. Jeger Mineral is versatile – it looks beautiful in interiors of any style, especially modern, eclectic and Scandinavian, adding spaciousness. The effect of natural stone with the addition of silver-glittering mica creates exceptionally successful combinations with natural materials such as wood, stone, glass or leather. The finish gives the walls a minimalist twist, but combined with the softness of the velvet sofa and large pillows, it will bring a cozy atmosphere to the interior, reminiscent of Scandinavian hygge.
Instructional video
Take a look at the instructional video to help you choose the right application technique.
How to do that? It's just 3 steps
You only need three tools.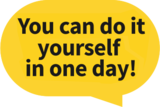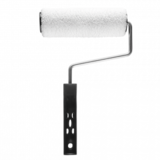 Paint roller
+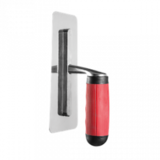 Plastering trowel
+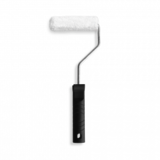 Paint roller
1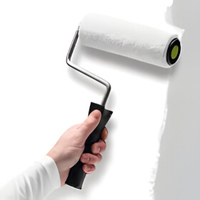 Spread primer
On a clean, dry, dust-free and degreased wall, apply Jeger Primer for decorative compounds with a roller (according to the instructions on the package) and let it dry for about 4 hours.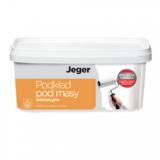 ---
2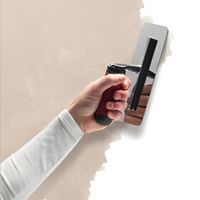 Apply decoretive effect
Jeger Mineral mix thoroughly. Do not dilute with water. Using a trowel, apply a thin layer of the effect. Apply the product in small pieces spreading it in all directions. When the material begins to dry, gently smooth it out. Leave to dry for 4 hours. Apply the second layer in the same way. Apply at a temperature of +8°C to +25°C, at a maximum relative humidity of 82%, avoid drafts. After finishing the work, wash the tools with warm water.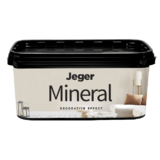 ---
3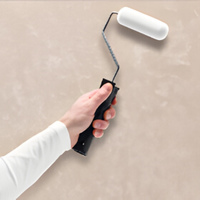 Protect surface
To protect the coating, apply Jeger Protector Mineral to the dried surface with a roller. Protector may cause a slight color change. Test the effect on a small area before protecting the whole.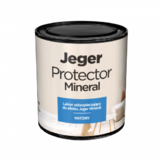 Tips
For a shimmering mineral effect, add Jeger Mica product to a packet of Jeger Mineral and mix gently before application. Then apply the product as in point 2 above. Once completely dry, sand the surface by hand or with a sander (180-320 grit paper). Then apply Jeger Protector Mineral (point 3).
Remember: if you need to use more than one package of product, mix the contents of all packages together before applying. This way you will get a uniform shade. Check the effect on a small area before doing the whole thing. The product is intended for interiors.
Download the application manual