Jeger Loft Metal
Decorative effect for walls in a metallic black look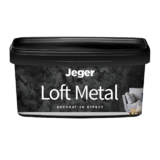 Choose color

Aluminium

Emerald

Old Gold
Product description
Jeger Loft Metal decorative effect gives walls the appearance of metallised black concrete. This distinctive and original effect creates an atmosphere inspired by the look of the best industrial spaces. The noble, metallic surface goes well with glass and wood accessories. With this decorative effect, your interior will transform quickly and efficiently, without the need for an involved overhaul.
The effect consists of two complementary products: compound Jeger Loft Metal and Jeger Loft Metal Metaliza – a special metallization layer available in 3 original colors (applied to a surface coated with Jeger Loft Metal effect, it gives the characteristic color of metallic black).
Instructional video
Take a look at the instructional video to help you choose the right application technique.
How to do that? It's just 3 steps
You only need two tools.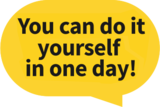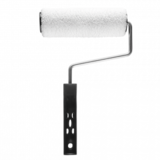 Paint roller
+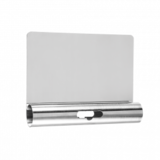 Plastering trowel
1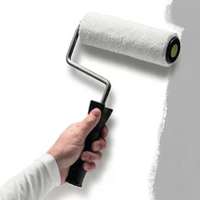 Spread primer
Apply Jeger Primer for decorative paints to a clean, dry, dust-free and degreased wall (according to the instructions on the packaging). Use a microfibre roller for this. Leave to dry for approx. 4 hours.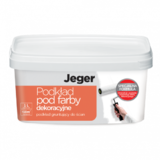 ---
2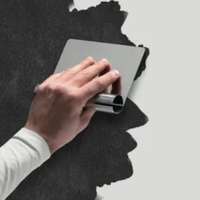 Apply decoretive effect
Mix Jeger Loft Metal thoroughly. Do not dilute, the product is ready to use. Apply a thin layer with a decorative effects trowel. Leave to dry for about 8 hours. After this time, you can make small corrections in places where the background shows off.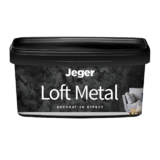 ---
3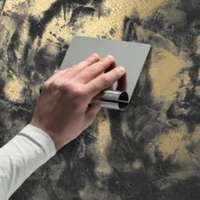 Apply metallization layer
On the dried surface, apply Jeger Loft Metal Metaliza in the color of your choice with a decorative effects trowel. When applying, use slanted crosswise movements, gradually smoothing the surface. Leave to dry for about 2 hours.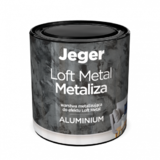 Tips
If it is necessary to use more than one package of the product, mix the contents of the packages before applying. This will create a uniform shade. Test the effect on a small area before applying it to the whole surface. The product is intended for interiors.
Download the application manual