Jeger Renovation Paint Sanitary Fitures
Renovation paint for washbasins, sinks, bathtubs and shower trays resistant to continuous contact with water and mechanical and chemical cleaning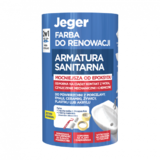 Choose color

White

Gray

Black
Product description
Jeger Renovation Paint Sanitary Fitures is a product with an innovative solution that provides an easy and fast renewal of surfaces exposed to continuous contact with water (sinks, bathtubs, shower trays, etc.) provides good adhesion to demanding surfaces made of porcelain, enamel, ceramics, resin, plastic or acrylic. The coating is characterized by high gloss, durability, water resistance, resistance to chemical and mechanical agents. The painted surface is resistant to stains and dirt. It can be washed with detergents and does not lose its gloss.
Substrate preparation
The substrate should be dry, clean and durable. Thoroughly clean, wash and degrease the surfaces (e.g. with acetone).
Application
Mix the product thoroughly before use. Do not dilute with water! Do not mix with other products. Apply with a flock type roller (e.g. f35). Apply the first coat of paint on a properly prepared substrate. Apply at a temperature of +8°C to +25°C, at a relative humidity of max. 82%. Spread the product evenly, covering the entire surface with a very thin layer. Avoid formation of streaks. Apply the second coat after a minimum of 12 hours. Allow to dry for 24 hours. in a well-ventilated room. After painting, wash your painting tools (e.g. with acetone).