Jeger Stiuk Matt
Decorative effect giving walls the appearance of natural marble with a smooth and subtle matt finish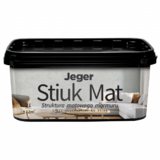 Choose color

Miraggio

Calcare

Nomade

Marmo

Paloma
Granito
Product description
Jeger Stiuk Matt is a decorative effect with a distinctive smooth and soft matt finish. It creates a subtly shaded coating on the wall, imitating natural marble. It will be a real adornment of classic and antique interiors, as well as modern interiors maintained in the spirit of minimalism – it will emphasize their character, introducing a note of casual elegance to the rooms. Ideal for all those who are looking for an original effect for the wall in balanced color proportions.
Instructional video
Take a look at the instructional video to help you choose the right application technique.
How to do that? It's just 2 steps
You only need two tools.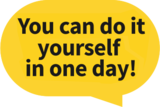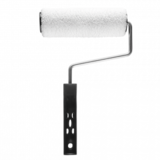 Paint roller
+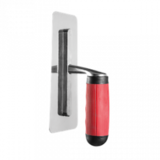 Plastering trowel
1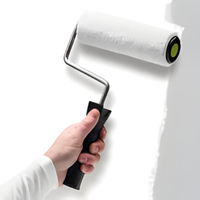 Spread primer
Apply Jeger Primer for decorative paints with a microfiber roller to a clean, dry, dust-free and degreased wall. Leave to dry for about 4 hours. Under light colors, we recommend applying two coats of primer.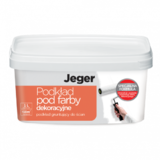 ---
2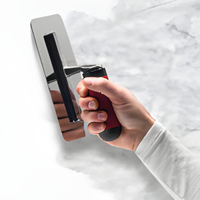 Apply decoretive effect
Jeger Stiuk Matt mix thoroughly. Do not dilute with water or mix with other products. Apply a thin layer evenly using a Venetian trowel. Apply the effect in small sections, spreading it in a crosshatching motion, irregularly. You may see slight thickening on the surface, which will emphasize the drawing of the effect. Allow to dry for 4 hours.
Apply the second coat in small sections, spreading the product in all directions to fill in all irregularities. When the material begins to dry, start smoothing gently, pressing the trowel against the surface. Allow to dry for 2 hours. If necessary, apply a third coat. Apply at +8°C to +25°C at a relative humidity of max. 82%, avoid drafts. After finishing the work, wash the tools with warm water.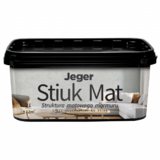 Tips
If you need to use more than one package of product, mix the contents of all packages together before applying. This way you will get a uniform shade. Check the effect on a small area before doing the whole thing. The product is intended for interiors.
Download the application manual