Jeger Millennium 5 Matt
Matt, stain-resistant latex paint for walls and ceilings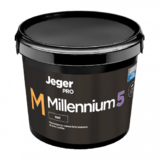 Choose color
Product description
Jeger Millennium 5 Matt is a stain-resistant, matt, latex paint based on an innovative solution that provides resistance to stains, grease and dirt and prevents dust from settling. It is characterised by the highest resistance to scrubbing. Thanks to the presence of specialised additives, the paint provides a high wetting angle – the hydrophobic Lotus effect. The paint does not splash during painting. The coating prevents leaving visible stains, is durable and ensures high colour quality. The low content of Volatile Organic Compounds (VOCs) makes this product environmentally and human friendly.
The color is prepared on individual order and is not returnable.
Kolor Konsultant poleca pasujące kolory
Select a palette, then a colour
The colours shown on the screen may differ from the colours of the products in reality. We present them for your reference.
Log in
Account creation
Password reset
Enter the e-mail with which you log in to our service. If the account exists, we will send you a link to reset your password to the address provided.
Thank you for submitting the form.
We sent the procedure for changing the password to the email provided.
Your password has been changed.
The sample was added to your cart.
You have to choose the color.
You need to choose the capacity/weight.
You have to choose the quantity.
You have to choose the color
You have to provide an e-mail
An unexpected error has occurred. Check your Internet connection.
A form error has occurred. Please check the correctness of the data.
An error occurred while adding a product to your cart.
A shopping cart handling error occurred
Info
Success
Warning
Error